RF Speed Sensors - Standard
Motion Sensors modulated carrier (RF) sensors require coupling with our PA1001A or PA2001series preamplifiers or other modulated carrier amplifiers.
When used with the PA1001A or PA2001 preamplifiers, they offer square wave (digital) output, low speed response, no drag, and large air gaps. They also have the ability to sense non-ferrous metals like aluminum and stainless steel, in addition to ferrous metals. RF sensors are becoming increasingly popular in applications such as turbine flow metering where it is important to sense small, free spinning devices without inducing drag on the movement of the rotor.
Product Specifications
In addition to the models specified, we can make custom RF sensors in other lengths, diameters, configurations, mounting threads (e.g., metric) as well as with different operating specifications and options like pigtail leads, NPT threads for explosion proof applications, etc. to satisfy special requirements. The products below are only a sampling of our product line; if you do not see a sensor that meets your needs, please contact us and we would be happy to manufacture a product to your specifications.
Features & Specifications
Standard Models
Modulated carrier (RF) type
Epoxy encapsulation
Open front construction (closed fronts and hermetically sealed versions are also available)
300 series stainless steel enclosure
Two (2) pin gold plated connector (mates with: MS3106-10SL-4S) or pigtail leads
Inductance: 1 mH +/- 10%
DC resistance: 10.5 ohms +/- 10%
Temperature range: -100°F to +400°F (-74°C to +204°C)
IR leakage: minimum of 50 Mohms @ 50 VDC
High Shock and Vibration resistance – MIL-Std-202G METHOD 214A, Test Condition H
Unconditional one (1) year warranty if used within specifications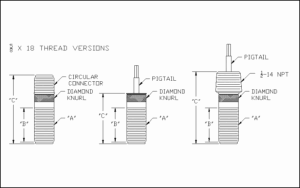 11/16×24 Thread
| | | | | |
| --- | --- | --- | --- | --- |
| MODEL NUMBER | MOUNTING THREAD (A) | THREAD LENGTH (B) | OVERALL LENGTH (C) | CONNECTION LEADS |
| RF-1 | 11/16X24 | .580 | 2.24 | 2 Pin |
| RF-1PT | 11/16X24 | .580 | 1.66 | Pigtail |
| RF-1EX | 11/16X24 | .630 | 1.88 | NPT/Pigtail |
| RF-3 | 5/8×18 | 1.10 | 2.20 | 2 Pin |
| RF-3PT | 5/8×18 | 1.10 | 1.625 | Pigtail |
| RF-3EX | 5/8×18 | 1.10 | 2.27 | NPT/Pigtail |
NOTES:
Dimensions in inches
Specifications +/-10%
Mounting threads UNF-2A