Motion Sensors has been manufacturing speed sensors since 1970
Our original sensors were developed to meet the extreme temperature cycling, high shock, and vibration demanded by applications in the turbine flow metering industry. Over the years, our product line and expertise has significantly expanded to include a wide range of speed sensing technologies and industry applications.
Today, Motion Sensors provides our customers with world-class engineering and manufacturing capabilities across a variety of industries, including aerospace, rail, military, and power. We develop partnerships with our customers, priding ourselves on the ability to anticipate and adapt to customer requirements quickly and efficiently.
A large part of our success is owed to the adoption of lean manufacturing principles and techniques, allowing the Motion Sensors team to provide our customers with high quality product, superior service and unparalleled responsiveness.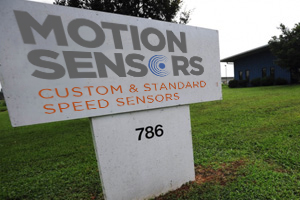 Facilities and Equipment Overview
17,500 sq. ft. of manufacturing floor space
AquaTherm 9200 Batch Cleaning System
Haas CNC three (3)-axis Milling Machine
Juki GL Automatic Screen Printer
Hardinge CNC two (2)-axis Lathe Machine
Nordson Yestech BX-12 Automated Optical Inspection System
Cincinnati CNC two (2)-axis Lathe Machine
Cirris Systems Signature 1100+ Automated Cable Tester
Daewoo CNC two (2)-axis Lathe Machine
Environmental Chambers (including vacuum capability)
Haas CNC two (2)-axis Lathe
Environmental Pressure Test Capability to 20,000 psi
Manual Milling Machine, Lathe and Drill Press
Unholtz Dickie Shaker Table for Vibration and Impact Testing
Weld Logic Automatic TIG Welder
Standard Bench Electronic Test Equipment
Juki KE-3020 High-Speed Flexible Mounter
Komax Gamma 255 Automated Crimping Machine
Universal Instruments Pick and Place Machine
Komax Mira 230 Wire Stripper
Juki CUBE 460 Selective Soldering Machine
SouthTek Nitrogen Generator
Juki RS-800 Solder Reflow Oven
SPEA 4020S2 Flying Probe System
NBW Systems Solder Reflow Oven
RMI Laser Marking Machine
Juki ISM3600 Intelligent Storage System
Optical Control OC-Scan CCX.3A SMD X-Ray Scanner