Oriented Hall Effect Zero Speed Sensors - H Series
The H series of sensors is based on Hall Effect sensor technology, which can sense a change in target motion from true zero to 20 KHz. These sensors incorporate a magnet within the sensor, enabling them to sense ferrous metal as well as magnet targets and can be optimized to detect fine as well as large pitch targets. These sensors integrate a preamplifier/signal conditioner within the sensor housing that provides excellent noise immunity and greater transmission capability. The output frequency of these sensors has a square pulse waveform (digital) that directly relates to the number of turbine blades, gear teeth, etc. that have been sensed. These pulses, in turn, can be correlated to determine flow rate, RPM, or velocity.
In addition to the standard models, oriented hall effect sensors are available in custom lengths, diameters, configurations, and mounting threads. Motion Sensors also offers Intrinsically Safe versions for applications or environments that require Intrinsic Safety, as well as Explosion Proof versions for potentially explosive atmospheres.
Features & Specifications
Standard Models
Input Power
4.7 to 24 VDC regulated, 15 mA maximum @ no load
Reverse polarity protected
Pulse Output Options
TTL/CMOS (Standard): fan-out of 5 TTL/CMOS loads
Open collector
Supply tracking: logic 0: 0.4 VDC
logic 1: (VS-0.2)xRL/(RL+2200)
Airgap
Up to 0.100″ dependent on target geometry and sensor construction
Interconnection Options
Magnet that resists demagnetization
Focusing tip
Three (3) pin MIL-C-5015 type connector with gold plated pins; mates with MS3106-10SL-3S; other connector types upon request
Pigtail with wires or cable
NPT threaded body with wire or cable pigtail for explosion proof environments
Warranty
Unconditional one (1) year warranty if used within specifications
Pin Connections
Pin A (Red): Input Power (+)
Pin B (White): Pulse Output (+)

Pin C (Black): Common (-)
Physical Features
Operating temperature:
-40°C to +125°C with connector
-40°C to +105°C with pigtail
NOTE: units that operate up to 150°C
are also available
Storage temperature:
-40°C to +150°C with connector
-40°C to +105°C with pigtail
Body material: 300 series stainless steel
Encapsulation: epoxy potting or hermetically sealed, welded construction
High Shock and Vibration resistance (MIL-STD-202G METHOD 214A, Test Condition H)
Orientation
Alignment of the sensor to target rotation is required for optimal performance, ensuring proper orientation of the hall effect element to the magnetic field
Approvals
CE compliant to EMC Directive 2004/108/EC for use in residential, commercial, light industrial and heavy industrial environments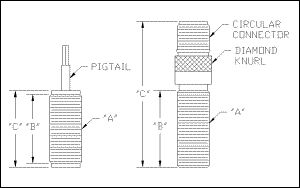 MODEL NUMBER
MOUNTING
THREAD (A)
THREAD
LENGTH (B)
OVERALL
LENGTH (C)
CONNECTION TYPE
OUTPUT (Pulse Range)
H-1
5/8X18
1.43
2.86
Connector
Open Collector
H-2
5/8X18
1.43
2.86
Connector
0-5 Vdc
H-3
5/8X18
.85
1.00
Pigtail
Open Collector
H-4
5/8X18
.85
1.00
Pigtail
0-5 Vdc
H-5
5/8X18
1.35
1.50
Pigtail
Open Collector
H-6
5/8X18
1.35
1.50
Pigtail
0-5 Vdc
H-9
5/8X18
1.43
2.86
Connector
0-10 Vdc
H-10
5/8X18
1.43
2.86
Connector
Supply Tracking
H-11
5/8X18
.85
1.00
Pigtail
0-10 Vdc
H-12
5/8X18
.85
1.00
Pigtail
Supply Tracking
H-13
5/8X18
1.35
1.50
Pigtail
0-10 Vdc
H-14
5/8X18
1.35
1.50
Pigtail
Supply Tracking
NOTES:
Dimensions in inches
Specifications +/-10%
Mounting threads UNF-2A