Employment Opportunities at Motion Sensors
Thank you for your interest in Motion Sensors. We are constantly striving toward our goal of delivering high quality, innovative, and cost efficient products and services. We take this responsibility seriously and acknowledge that the people who will take us there are our most valuable resource. Each employee is personally responsible for the quality of his or her work and is empowered to initiate action to insure both quality and continuous improvement in our products and manufacturing processes. If you are up for the challenge, we invite you to consider the opportunities that are available with our company. Motion Sensors offers competitive wages and a generous benefit package.
Motion Sensors is a Drug Free Workplace. Drug Screening will be conducted on all new hires.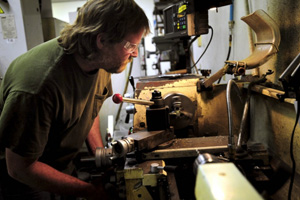 Employee Benefits
Motion Sensors strives to provide a superior benefit program that can be enjoyed by all employees. We have key departments that are staffed by multiple employees. Our Main areas of Operation are: Production, Inventory Control, Shipping and Receiving, Machine Shop, Engineering, Electronic Test, Utility, and Administration. Company benefits include paid holidays, paid sick/personal days, paid vacation, 401-K retirement plan with profit sharing, health insurance, short term disability insurance, and direct deposit payroll. We are continually striving to improve and enhance our benefits package.
Equal Opportunity Employer
It is the policy of Motion Sensors, Inc. to provide equal opportunity to all qualified individuals in its recruitment, hiring and employment practices and to ensure that there will be no discrimination against any person on the grounds of race, color, creed, age, religion, national origin, gender, marital status, handicap, political affiliation, beliefs, sexual orientation or other protected classes.
How to Apply
To apply, CLICK HERE to submit an application. Please, no phone calls or in-person submissions. As needed, please direct any questions to hr@motionsensors.com.
Administrative Assistant
Elizabeth City, North Carolina
Duties and Responsibilities:
Sales Order Entry – Enters sales orders into ERP system, performing quality verifications and contract review activities. Interfaces with management to confirm all aspects then sends order acknowledgements to customers.
Sales Order Shipments – Creates customer invoices and associated shipping documentation on daily basis. This includes an extensive quality check on all documentation and contract review requirements. The process varies from simple to extremely complex transactions depending on the type of part being shipped, customer requirements, and in some cases, the country to where it is being shipped.    
Customer Support – Responses to customer inquiries regarding orders, status, and other misc requests.
Checkpoint – Scheduling, tracking, and ensuring completion of company maintenance activities and recurring duties using a Quickbooks based company file.
A/P Responsibilities – Performs matching of inspection documentation, pack lists and supplier invoices. Enters all bills into QB
Collections – Reviews list of overdue items on a weekly basis, contacts customers for status and reports back to management
Phone handling operations – Answers calls and screens/routes to appropriate personnel. Takes detailed messages and forwards them in a timely manner via e-mail.
Filing and Scanning, Sorting of Incoming Mail Items
Special projects as assigned
Other duties as assigned
Qualifications:
Strong organizational skills
Attention to detail; ability to review own work to ensure quality assurance.
Ability to multitask and work effectively in busy office environment
Demonstrates a willingness to work as a productive team member
Demonstrates decision making skills and leadership
Must be able to work unsupervised and manage time efficiently
Possesses strong written and oral communication skills; able to maintain professional communications with customers, suppliers, and other staff
Proficient in Microsoft Office Applications including Word, Excel, Powerpoint, and Outlook
Experience with Quickbooks or other accounting software preferred
Ability to quickly learn computerized ERP system
Physical Requirements:
Must be able to physically perform basic office/administrative functions
40 hours work week, Monday-Thursday 7:00 to 5:30 with 30 minute lunch.
Company benefits include paid holidays and vacation, company supplemented health insurance, 401K with company match and profit sharing.
QC Inspector/Electronics Test Technician
Elizabeth City, North Carolina
Job Description
Inspects solder joints for all electronics and pickup assemblies, repairs as necessary
Communicates issues/concerns to team leaders and operators to rework current material and implement improvements for future assembly; will be combination of "in process" feedback as well as weekly feedback reports
Elevates issues/concerns to supervisors/quality as needed
Functional Product Testing (electronics, Amplified and Hall Effect Product, standard product)
Incoming QC inspections as needed
Failure Analysis activities as needed
Qualifications
Exceptional inspection ability to IPC 610 (Class 2 and Class 3)
Exceptional soldering ability to IPC J STD 001 (Class 2 and Class 3)
Ability to interface well with operators and team leaders to provide constructive and effective feedback
Confidence regarding quality requirements; ability to "stand up" for high quality and push back as needed
Ability to prioritize workflow to keep production moving