Employment Opportunities at Motion Sensors
Thank you for your interest in Motion Sensors. We are constantly striving toward our goal of delivering high quality, innovative, and cost efficient products and services. We take this responsibility seriously and acknowledge that the people who will take us there are our most valuable resource. Each employee is personally responsible for the quality of his or her work and is empowered to initiate action to insure both quality and continuous improvement in our products and manufacturing processes. If you are up for the challenge, we invite you to consider the opportunities that are available with our company. Motion Sensors offers competitive wages and a generous benefit package.
Motion Sensors is a Drug Free Workplace. Drug Screening will be conducted on all new hires.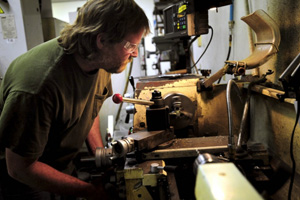 Employee Benefits
Motion Sensors strives to provide a superior benefit program that can be enjoyed by all employees. We have key departments that are staffed by multiple employees. Our Main areas of Operation are: Production, Inventory Control, Shipping and Receiving, Machine Shop, Engineering, Electronic Test, Utility, and Administration. Company benefits include paid holidays, paid sick/personal days, paid vacation, 401-K retirement plan with profit sharing, health insurance, short term disability insurance, and direct deposit payroll. We are continually striving to improve and enhance our benefits package.
Equal Opportunity Employer
It is the policy of Motion Sensors, Inc. to provide equal opportunity to all qualified individuals in its recruitment, hiring and employment practices and to ensure that there will be no discrimination against any person on the grounds of race, color, creed, age, religion, national origin, gender, marital status, handicap, political affiliation, beliefs, sexual orientation or other protected classes.
How to Apply
To apply, CLICK HERE to submit an application. Please, no phone calls or in-person submissions. As needed, please direct any questions to hr@motionsensors.com
Current Openings
Electronics Assembler

Position Summary:

Candidate will be expected to do some or all of the following:

·       Understand written and verbal instructions
·       Follow production drawings and sample assemblies
·       Use fixturing to align parts in specified relationship to each other
·       Solder parts using soldering iron
·       Mount components on PCB panels
·       Connect component lead wires to PCB boards
·       Work with extremely fine wire and small components
·       Perform intermediate assembly tasks (potting, sanding, cleaning, etching, etc.)
·       Experience soldering a plus but not required

Benefits include paid vacations, holidays, sick/personal time, company supplemented medical insurance, short term disability, 401K and profit sharing.

40 hour work week (Monday – Thursday) 7:00AM to 5:30PM with 30 minutes for lunch.
Starting pay is DOE.
Drug testing required.

Please submit the Electronics Assembler Supplement with your application.

Location: Elizabeth City, NC