We custom design, engineer, modify, and test custom speed sensors for any application.
Do you need custom speed sensors to meet specific speed sensing requirements? We offer in-house customization and modification services, from initial design and prototype to final testing and delivery. Send us your specifications for a detailed quote.
We provide custom sensors on a regular basis and are happy to help develop a solution for your application, or a replacement sensor for an existing application. Please contact our engineering department at eng@motionsensors.com or 252-331-2080 to discuss your application requirements.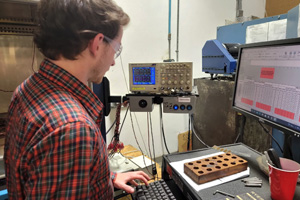 Areas of Customization
Common Areas of Customization
Speed Sensor customization can fall into many categories. Over the years, we have designed thousands of different sensors, reflecting the wide variety of customer and application requirements that exist. Our experience ranges from the use of custom connectors to designs where we start from scratch to develop a sensor that meets customer requirements. Many changes are straightforward modifications and do not require a large amount of custom engineering design. For more information please see the Standard Speed Sensor Modification section below.
The majority of our customization work falls into two primary categories: physical shape/size and functional output requirements. Most custom designs are a blend of both categories.
Physical Shape/Size
While many changes to sensor shape/size are what we would consider a standard sensor modification – for example the increase of a thread length from 1.875" to 3.5" - other changes can impact the internal geometry, functional capabilities, and assembly considerations of a speed sensor, thereby necessitating more extensive design work. Definition of the desired sensor envelope size and shape is an important part of the sensor design process and in many cases can have extensive impact upon sensor design options. Motion Sensors has designed custom sensors ranging in size from .250" in diameter to 1.25" in diameter, with a wide variety of body styles, flanges, mounting threads and lengths.
Connection details such as special cable, heat shrink, over-molding and the use of conduit or hose are also common in many applications, as well as the use of special connectors such as QPL rated MIL series options.
Functional Output
Many of our custom sensors are designed to meet specific functional criteria determined by the application and the electronic interface requirements. For standard variable reluctance sensors this typically involves the minimum signal strength required by the electronics, which impacts the sensor resistance, inductance and gauss strength criteria. When dealing with electronics, customization requirements vary significantly. Some examples include specific types of sensor output (e.g. dual differential output), increase in frequency range or input power range, incorporation of protection for extreme environmental conditions (e.g. EMI interference and/or load dump) and decreased power consumption for battery operated applications.
Our engineering team has significant experience working with customers to develop custom speed sensors. Please contact us at 252-331-2080 or eng@motionsensors.com to discuss your requirements. Regardless of the stage of your project we are able to offer technical input and guidance, budgetary pricing and estimates on NRE (where applicable). Our experience includes working with customers to define the initial product requirements, design activities including validation and qualification testing, as well as working with certification agencies where applicable to achieve product approvals.
Speed Sensor Modification
Modification of Standard Speed Sensors
The product listings you find on this website are meant to provide a "snapshot" of standard product offerings. By no means are they meant to be a comprehensive listing of speed sensor models and options. Many customers identify a speed sensor with the basic features required but need some aspect of the sensor design "tweaked" or changed slightly. Motion Sensors typically does not consider this a custom design, but rather a modification to an existing design. Lead-time and cost increases are in many cases minimal. Below is a quick reference of these standard modifications. For more extensive design changes, see Common Areas of Customization or contact us at eng@motionsensors.com
Addition of Pigtail Leads or Cables
Many of our standard sensor designs incorporate the use of a MIL series connector. All of these designs can have pigtail leads or a cable added to them. Standard options are #22AWG Teflon leads or a #24AWG PVC or Teflon cable (depending upon temperature range). Custom wire/cable can be added per customer request. Standard lead length is 12" but can be set per customer specification.
Thread Length/Size
Our standard product lines reflect the most common thread lengths and sizes. That being said, we have made hundreds of modified offerings that are not represented on the website. Common modifications include the use of metric threads, as well as an increase in the thread length and/or OAL. Please do not hesitate to communicate your requirements to our sales staff and we will see if we have something that will meet your needs or will modify to your exact specifications. These types of modifications may incur additional charges, especially in lower volumes (e.g. 2-3 pieces) due to the machine setup times involved in machining a custom body.
Tip Size
Our standard Variable Reluctance sensors are shown with the most common tip length and diameter. However, many customers require modified versions of these sensors, with different size tips, flush fronts, or in some cases special shapes such as a conical tip to sense an extremely fine gear.
Gauss Strength
Depending upon application design, gauss levels may need to be modified to minimize drag. Drag is the influence of a speed sensor's internal magnet on the target. Usually drag does not affect target devices like gears, shafts, or rotors that are being driven. However, in applications like turbine flow metering where the turbine blades are free spinning and turn based on the pressure and flow of the fluid or gas flowing through the meter, drag could retard or hinder its ability to turn freely. This is especially true in small diameter meters and low flow applications. Motion Sensors makes specially designed low drag versions of our variable reluctance (VR) speed sensors. If drag is of great concern, we also offer modulated carrier (RF) sensors which have absolutely no drag and are ideally suited for low flow applications or where maximum turndown ratios are desired. Additionally, we can provide sensors with gauss strength set to a specific level in order to meet application requirements.
Please note that the gauss value measured is dependent upon the probe style used and the location of the sensing element in the probe. Many times, we find it necessary to "calibrate" our gauss measurements to our customers to ensure that the values are consistent, by taking sample measurements and correlating with customer data for that specific sensor.
Hermetic Sealing
Many of our standard products are offered in epoxy encapsulated models which provide the most cost-effective option. However, some applications require the use of a hermetically sealed device to protect against moisture intrusion. Our hermetically sealed devices incorporate the use of a welded seam at the sensor tip or the use of a solid stainless-steel sensing front. The connector is a glass to metal sealed unit that is welded to the sensor body. Almost all of our standard speed sensors can be provided in hermetically sealed models.
Reverse Engineering
Reverse Engineering
There are also situations where specification drawings are not available, however a customer has a sensor in use which either requires a second source and/or the customer desires a modified version of the existing sensor. In many of these situations, the customer has purchased the sensor as part of a system and thus does not have access to basic functional parameters (e.g. resistance, gauss, output type, connector wiring). Since sensor parameters can vary widely, it is important to design a fit, form and function replacement for the existing sensor in order to ensure that the solution will interface properly with the physical and electrical components of the existing application. In many of these situations, Motion Sensors is able to perform non-destructive testing on a working sample to determine these parameters and provide a solution from our sensor lines.
If you have a specification and/or existing sensor that you would like quoted, please contact us at 252-331-2080 or sales@motionsensors.com We will review the specifications available and work closely with you to identify any additional requirements and ensure that our solution meets your needs.
Build To Print
Build to Print
Over the years, Motion Sensors has designed a large number of speed sensors to meet the requirements of customer applications. In many cases, design has been based upon scope definition and discussions between the customer and our engineering team to understand the requirements for the application and design a solution. In many others, Motion Sensors has been provided customer requirements via a customer drawing and/or sample sensor. Our experience working with customer specification drawings spans from early concept drawing all the way to the design of a replacement for a sensor that has been in use for many years. We understand the product lifecycle and work closely with the customer to provide suggestions for modification that will enhance product viability, reliability and cost-effectiveness while adhering to the critical application parameters.
Design Support
Speed Sensor Design Assistance
Our engineering team is available to assist with selection of the appropriate sensor technology and modification or customization of a sensor to meet application requirements.
In order to assist in our recommendation, following is a list of application information that is helpful in identifying the best sensor solution:
What type of output is required? (options include analog sine wave, 0-5VDC, 0-10VDC, open collector). If analog output, what is the minimum output required?
What is the desired input power?
What is the operational temperature range?
What is the desired sensing distance (air gap) from the sensor front to target?
What is the desired electrical connection (e.g. pigtail leads/cable or connector)?
What is the desired mounting configuration and/or mounting thread of the sensor?
What is the desired overall length of the sensor?
What is the target geometry? (i.e. tooth width, tooth thickness, tooth height, distance between teeth)
What is the target material?
What is the number of teeth on the target?
What is the minimum and maximum RPM?
If all the information is not known/available our engineers will work with you to identify the best solution for your application given the known parameters. Please contact us at 252-331-2080 or eng@motionsensors.com to discuss your requirements.
Environmental Testing
Environmental Testing
Motion Sensors can perform a wide variety of in-house environmental testing. Our experience is that many customers require some form of environmental testing during the product development lifecycle; our ability to perform this testing in-house provides enhanced value with respect to design cost and scheduling. We also see a growing number of applications that require Acceptance Testing on each unit in the area of pressure, thermal cycling, and vibration.
Our capabilities include:
Environmental chamber and ovens for thermal and burn-in testing
We perform temperature verification testing as part of the design process for many products. Additionally, per customer requirements, there are many products that require temperature cycling and/or temperature soak as part of the test criteria for each unit manufactured. Test criteria varies widely from product to product; our test equipment and processes are designed to be versatile in order to meet differing customer requirements with respect to test design, duration, monitoring (e.g. continuous monitoring of part during test), and documentation.
Pressure testing capability to 20,000 PSI
Motion Sensors sees a growing number of applications that require pressure testing of speed sensors to validate burst pressure (during initial development stages) as well as to verify working pressure for each unit. Our ability to perform this testing in-house limits the long-lead times and costly tooling and setup charges that would be incurred if this process was outsourced, especially when dealing with small volume orders.
Shaker table for Vibration and Impact testing
Our Unholtz Dickie vibration testing equipment is used both to prove out new designs and for R&D to make improvements to existing product lines. All of our standard product lines have been tested for vibration to MIL-STD-202G Method 214A, Test Condition H. Additional testing has been performed on standard products as well as custom designs at levels designed to meet customer and application requirements. We have also recently seen requirements for vibration testing on production units, mostly in aerospace and military applications.